Lesley Tompkins
Class and catering Co-ordinator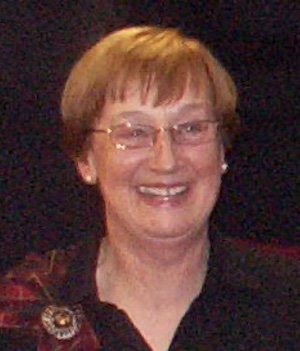 It was recently pointed out to me that I am among the Leeds Branch longest-standing members who are still dancing, something that I must admit I hadn't realised.
I started dancing in 1987, already well into adulthood (I'm not prepared to admit how far) having been persuaded by Christine Godwin to go to a new beginners' class run by Roy and Doreen Goldring (with many helpers). I really didn't know what Scottish Country Dancing entailed nor did I imagine I would still be dancing more than 30 years later. Initially it was all very confusing; one of my memories is of constantly wondering "how do they know when to start?". It didn't take long though for me to start enjoying and looking forward to the classes. Just like Jane I soon found it to be a good way of forgetting the stresses of the working day because of the concentration required. I also discovered an enjoyable and exhilarating form of exercise and a social activity which led to me making many friends.
From that class I progressed to others, at various levels, all over West Yorkshire as well as day and weekend schools further afield.
I was soon attending the Branch social dances; at that time they  were held in James Graham Hall at what is now Leeds Beckett University. If you have ever been in there it is an imposing room, very large and wood-panelled and quite intimidating for a relative beginner. Social dances then became part of my routine and I was going to them in different parts of West and North Yorkshire.
I have danced with the Branch at demonstrations, chiefly but not solely, on St. Andrew's day and at Burns' night events. I have danced regularly at the White Rose Festival and occasionally at the Newcastle Festival.
This is my second "term" on the committee. I served for a number of years in the early '90s, eventually taking over the membership duties. At the start of the 21st century the White Rose Festival was being organised by the York and Humberside Branch. When they decided to hand it back to Leeds, after 2002, I joined the WRF committee as secretary and stayed until 2008. I well remember the early days of working on the site all Friday afternoon and Saturday morning, dancing all the mass dances, the demonstrations and as many of the highland dances as I could in the afternoon before doing the full evening programme (while helping to tidy up the site as well). Where did I get the energy from?
That energy level has certainly gone now but I do hope to continue dancing for as long as my joints (and brain) will allow.