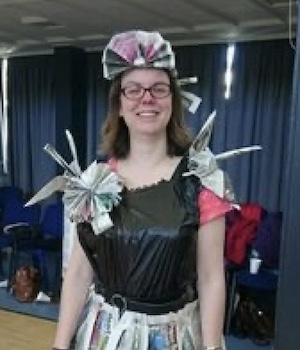 Enjoying myself at Spring Fling. The group challenge was to "make a costume" for Scottish Dancing out of paper and black bin bags.
Here I am modelling the finished product. The cranes on the shoulders were to give me height, and the extravagant headpiece was to encourage people to look up.
I started Scottish Country dancing  in Darlington when I was 7, at an after school class. I danced throughout junior school; during high school I walked back to the juniors for classes, and when I went to university in Leeds I joined the Scottish dancing society there.
I eventually found Branch classes, and I've never looked back. In the past I've taken part in dancing trips overseas with Newcastle Branch, and have danced at youth events & Spring Flings in the UK & Europe. As a student I spent a year in Germany, found a lovely dancing group there, and every year I spend a weekend in the Black Forest dancing with them - normally practising the dances for a local Ball (which I don't actually attend).
At the White Rose Festival, I can often be found dancing in a junior team - the team I danced with when I was 7, taught by the same teacher! I was irrationally disappointed the year they had a full team & didn't need me!
Dancing has brought me so many friends. It has given me holidays, and so many happy memories. It is so much more appealing than going to the gym to keep fit!
What do I love most about dancing? The people (goes without saying) and the challenge of attempting a really complicated dance, getting it right,  and maybe even making it look good!
I can't wait to get back to dancing!